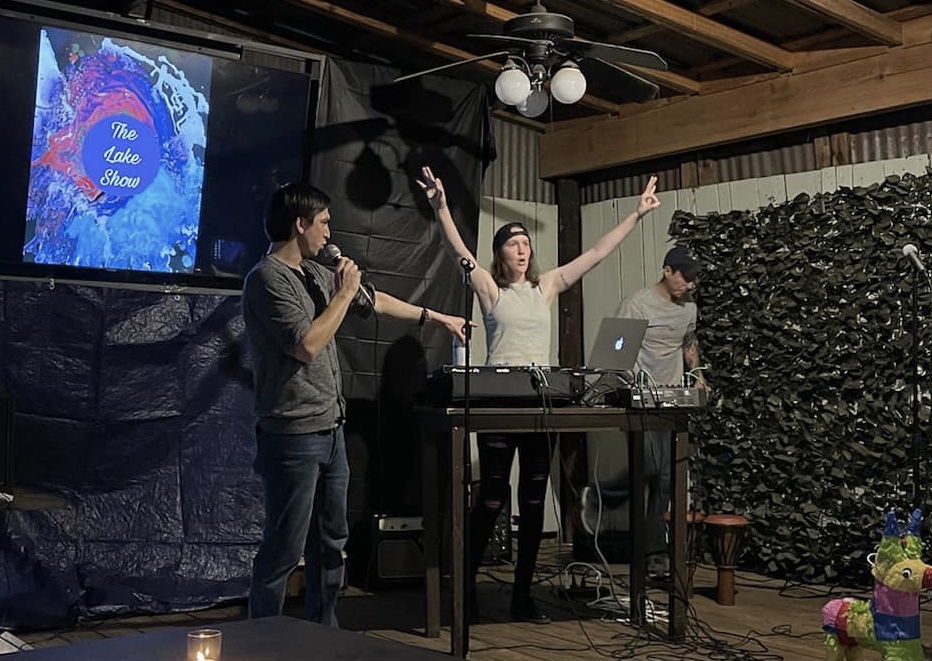 DJ Monikkrome…
An open format DJ in Austin TX…
Kicked off the evening for The Lake Show's 4/20 spectacular on South 1st St.
Thrown by local event promoter, Lake Mic ATX.
They have a local open mic night for comedians and musicians on Tuesday nights.
The thunderstorms caused some minor hiccups…
But it wasn't enough to drown out the rock band, Paper Machete.
The group can rock your face off…
They can also play quieter intimate songs just as well.
Other musical acts included Freeze Frame & Kirk…
A duo that plays an eclectic mix of guitar and intense rap.
They have a weekly radio show on KOOP 91.7 called The Stopped Clock. 
They tell sci-fi stories with their signature musical style.
"Cosmic music, broadening tales, and humorous skits bring to life the jagged edges of the imagined universe."
It reminds me of mysterious "alien-like" places, like Marfa out in West Texas.
The show is every Wednesday from 6-7 pm.
Enjoy replays of their show here.
The Lake Show on 4/20 lineup also included musician Neil Dorsey…
And local comedians, Derek Dimpfl, Hunter Carney, and Pat Duggan.
Issue 5 of the Austin print magazine, Sidecar Junkaroo, was on display…
And I enjoyed flipping through the interviews, art, and comedy pieces. 
Last but not least, enjoy the full DJ Monikkrome set below…
Full of hits throughout the decades and stoner anthems.
Simply hit the play button.
P.S. Get free music, mixes, show announcements, new blog posts, and more when you join Monikkrome's email list here.